THE PETER O'SULLEVAN CHARITABLE TRUST
Now in it's 22nd year the Trust has distributed over £5 million equally between the six charities it supports.
Blue Cross, Brooke, Compassion in World Farming, World Horse Welfare, Racing Welfare and The British Thoroughbred ReTraining Centre.
In addition the Trust has pledged over £2.5 million to other charitable causes, mainly equine or equine related.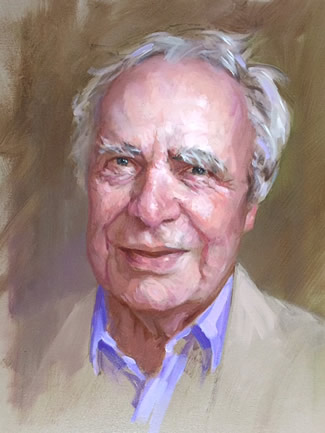 2017 AWARD
The 2017 Award was presented to Hugh Mcllvanney OBE by previous winner John Gosden at the Award Lunch on November 23rd at London's Dorchester hotel. Over 490 guests (yes another record) were once again entertained by Rory Bremner.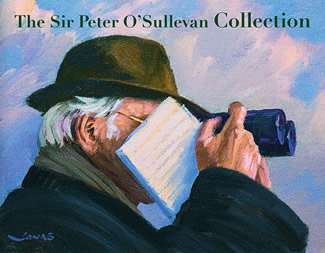 The Sir Peter o'sullevan collection
A celebration of Sir Peter O'Sullevan's life was held at the Osborne Studio Gallery in March 2016.
An exhibition of paintings, sculpture, photographs and ephemera from his private collection.
Audio recording of service held at St Luke's Church, 27 October 2015
Full Service



Rory Bremner



Hugh McIlvanney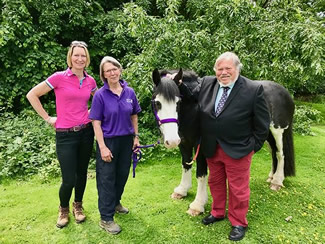 RDA Duchy
6th June 2018
Juliette Snelgrove, left, Chair of RDA Duchy in Cornwall is joined by Mary Frampton-Price who runs the facility and The Trust's Nigel Payne, to welcome their latest acquisition, Lady Bird, to their headquarters near Stoke Climsland. The Trust's donation enabled Lady Bird to be purchased. She has settled in beautifully and does her job perfectly.
Books
A limited number of signed copies of Peter O'Sullevan's update of his bestselling autobiography Calling the Horses are now available at £50 incl P&P.
Funds raised support the vital work of our charities.
Calling the Horses
Prices include UK P&P. Please contact us for non-UK orders
Prints
An edition of 50 prints by Peter Curling are now available at £275 +P&P.
Funds raised support the vital work of our charities.